CEVO® Chief Earned Value Officer® executive certification program is the highest Earned Value Management (EVM) certification across industry and government. CEVO® is a global based EVM credential that recognizes executive level leadership who require a general understanding about the application, value and benefits derived from the use of advanced Earned Value Management Systems (EVMS) in the effective and efficient management and oversight of very large complex and high risk projects and programs within their organizations
Outline, Curriculum & PDUs
CEVO® CREDENTIAL CERTIFICATION PROGRAM MODULES COVERED FROM DAY 1 THROUGH DAY 3:
CEVO® CHIEF EARNED VALUE OFFICER® CURRICULUM:
The CEVO® Chief Earned Value Officer® curriculum has been designed by a number of internationally recognized professionals from the field of project management, earned value management, risk, economics, business, finance, information technology, engineering, and government. With its newly revised program, the CEVO® Chief Earned Value Officer® formula is challenging, rewarding and exciting for all executives regardless of their industry domain or solution delivery. The curriculum will have a lasting effect on the way you manage projects at an executive and senior management level, and provide you with applicable knowledge to see your projects successfully through start to finish, without schedule delays and cost overruns.
The P3D® President's Projects Portfolio Dashboard® module and training covers the monthly status summary rollup reporting tool on schedule, cost and major risks on all the President's projects, and the communications of solutions and progress on any problem areas. The CEVO® Executive Dashboard™ training module, among others, will provide hands-on techniques and methods to enable better earned value management metrics and performance reporting. It is reported that between 75% and 85% of total projects done globally are executed over budget and behind schedule.
The CEVO® Chief Earned Value Officer® participants will gain insight into how to provide leadership within their organizations to overcome and prevent this recurring and alarming trend!
THE CEVO® CHIEF EARNED VALUE OFFICER® MODULES:
MODULE 1: CEVO® Executive Leadership
MODULE 2: CEVO® Executive Strategy
MODULE 3: CEVO® Executive Management
MODULE 4: CEVO® Executive EVM Center of Excellence™ (CEVO® Executive EVMCOE™) Establishment
EVMI® Project Case Study Method™
Some of the sub-modules covered across the four CEVO® Modules include among many others:
CEVO® EXECUTIVE PROGRAM (DAY 1):
FOUNDATIONAL SKILLS BUILDING
High level overview of EVM; EVMS & EIA-748 EVMS industry guidelines
US Senate Bill S 920, US Senate Bill S 801, IT SWAT team membership, FAC-P/PM & CEVO®
MODULE 1: CEVO® EXECUTIVE LEADERSHIP
CEVO® Functions & Role
The CEVO® Vision™
CEVO® Executive Leadership

CEVO® – Leading Change and Innovation
CEVO® – Leaders Building Leaders
CEVO® – Succeeding in the sea of complexity
The CEVO® Organization™
The CEVO® Formula™
The CEVO® Agenda™
The CEVO® Roadmap™
The CEVO® Mindset™
The CEVO® Executive Briefcase™
The CEVO® Executive Dashboard™
The CEVO® Boardroom™
The CEVO® Top Twelve™
CEVO® – Building and Developing A Culture of Oversight, Transparency, Accountability, Problem Solving & Management Controls.
CEVO® – Aligning EVMS, EVM & Project Controls delivery with your long term business goals for all your projects and programs
CEVO® – Attracting & Retaining a Highly Skilled EVM workforce
The New CEVO® – The First Ninety Days Plan
EVMI® CEVO® Project Case Study Method™ – Case Study 1
CEVO® EXECUTIVE PROGRAM (DAY 1):
MODULE 2: CEVO® EXECUTIVE STRATEGY FORMULATION & EXECUTION
Formulating and Implementing EVMS Strategy & Policy
Advanced Cost Estimating (Getting your cost estimates right at the outset)
Establishing Effective, Reliable and Credible Performance Measurement Baseline (PMB) Management (Preventing unauthorized Changes, Scope Creep & Risks) across all projects and programs
Effective Earned Value Management (EVM) Implementation and Execution (Best Practices);
Advanced EVM Analytics & Forecasting Application;
Project Management and Earned Value Management Maturity Assessments;
Maintaining and managing efficient and effective EIA-748 Compliant EVMS;
Leading Successful Integrated Baseline Reviews (IBRs)
Leading effective EVMS Surveillance Implementation; EVMS Surveillance Monitoring; & EVMS Surveillance Oversight
Project Management Office (PMO) Set-up
Leveraging EVMATOM® Earned Value Management Accountability Transparency and Oversight Matrix® Across the Project Organization
Leading EVM Processes Standardization
Program & Project Financials Oversight
Earned Value Management Architecture & Framework
Earned Value Management Information Systems (EVMIS)
Establishing and Managing Control Account Managers (CAMs); Program Managers; Project Managers; & Earned Value Management Staff
Effective and efficient Contract Management and Administration
EVMI® CEVO® Project Case Study Method™ – Case Study 2
CEVO® EXECUTIVE PROGRAM (DAYS 2 & 3):
MODULE 3: CEVO® EXECUTIVE MANAGEMENT & GOVERNANCE
CEVO® – Advanced Change Management System
CEVO® – Advanced Risk Management System
CEVO® – Advanced Quality Management System
CEVO® – Advanced Earned Value Management Systems (EVMS)
CEVO® – Advanced Schedule Management Planning & Execution
CEVO® – Advanced Communications Management System
CEVO® – Advanced Issues Management System
CEVO® – Advanced Customer Relationship Management System
CEVO® – Advanced Supply Chain Management System
Managing and Implementing Effective & Efficient Project Management Controls
Implementing Fraud Detection & Prevention Systems
Implementing EIA-748 Compliance & Surveillance Systems
Managing Variance Analysis Reporting, Problem solving (Corrective Actions taking) and EVMS Data and Status Reporting
Managing the CEVO® Executive Dashboard™
Managing a Customer Focused EVMS and Project Controls Delivery System
MODULE 4: ESTABLISHING, EXECUTING AND MAINTAINING THE CEVO® EXECUTIVE EVM CENTER OF EXCELLENCE™ (CEVO® EXECUTIVE EVMCOE™)
Building and maintaining a world class 'CEVO® Executive Earned Value Management (EVM) Center of Excellence™ (CEVO® Executive EVMCOE™)'
Annual CEVO® Executive EVMCOE™ Reviews
High Level CEVO® Executive EVMCOE™ Implementation Strategy Reporting
All CEVO Participants will implement their "My CEVO Strategy & Execution Playbook" during the First 90 Days as a Newly certified CEVO®
The "My CEVO Strategy & Execution Playbook" is a compendium of strategies, templates, methodologies, best practices and benchmarks required to successfully launch, deliver, execute, build and maintain a world-class CEVO Executive Earned Value Management Center of Excellence
All CEVO Participants will receive their "My CEVO Strategy & Execution Playbook" which includes 5 sections (see below:)
My CEVO® Strategy &   Execution Playbook™ Sections (DAYS 2 & 3):
SECTION 1:
My CEVO People Management Strategy & Execution
SECTION 2:
My CEVO Program & Project Management Strategy & Execution
SECTION 3:
My CEVO Executive Earned Value Management & Project Controls Strategy & Execution
SECTION 4:
My CEVO Executive Governance, Oversight, Management & Leadership Strategy & Execution
SECTION 5:
My CEVO Executive Earned Value Management Center of Excellence (CEVO Executive EVMCOE) Planning, Execution, Implementation & Maintenance Strategy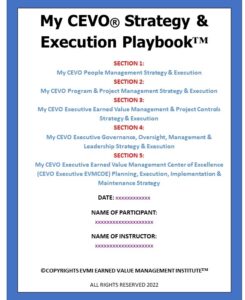 DURATION: 5 DAYS
PRICE: $49,999 per participant
TRADEMARKS:
CEVO® Chief Earned Value Officer® is a registered trademark of EVMI® in the USA and internationally and fully protected under International Trademark and Copyrights Treaties and Laws among nations